Neck Pain Treatment
Neck pain usually starts at the base of the skull, which contains several vertebrae that are very small. Your neck is highly susceptible to both injury and pain since it has so much flexibility. Things such as falls and blows to the head, repetitive movement, accidents, and even aging can all affect the biomechanics of the neck. It can be extremely difficult, which may require seeking out professional care. That's why our team at Perkins Family Chiropractic in Amarillo, TX is here to help you find the relief you need from your neck pain.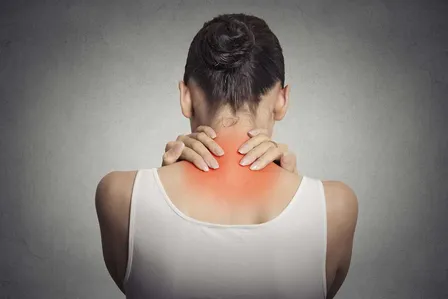 Causes of Neck Pain
Some of the most common causes of neck pain include:
Accidents and injury- A forceful movement in the neck or head resulting in whiplash. Injuries to the tissues of the neck and head are apparent with whiplash. Muscle fatigue is a result of contracting and tightening the muscles of the neck. Severe whiplash can cause disc, joints, muscle, or ligament injuries.
Aging- Spinal stenosis, degenerative disc disease, and osteoarthritis are common degenerative disorders that affect the spine directly and come with aging.
Osteoarthritis- A common disorder of the joints is known as osteoarthritis and causes deterioration of the cartilage. Bone spurs are formed once the body reacts and affects the way the joints move.
Spinal stenosis- The vertebrae consist of tiny nerve passageways that begin to narrow and put pressure on the nerve roots. Stenosis may result in numbness, arm, shoulder, and neck pain if these roots cannot function as they should.
Degenerative disc disease- The height and elasticity of the intervertebral discs are reduced. Within time, this may cause herniated or bulging discs, resulting in pain, tingling, and numbness that can be felt in the arm.
Daily life- Obesity, poor posture, and weak abdominal muscles can disrupt the spine's alignment. This results in the neck bending forward. Emotional tension and stress can result in tightening of the muscles, which causes stiffness and pain.
How Can Our Chiropractor Help?
Neck pain treatment can involve various treatments depending on the patient's condition. Chiropractic care for neck pain often includes neck adjustments. This is also known as cervical manipulation and is a procedure that is applied directly to the neck joints. As a result, neck adjustments work by improving spine mobility and range of motion. You will notice an improvement in your ability to tilt and turn your head once these adjustments are completed.
Contact Us for Neck Pain Care in Amarillo, TX
Give us a call here at Perkins Family Chiropractic to schedule an appointment today (806) 331-2225. We are here to help patients in or around the Amarillo area find the care they need. Contact us today to schedule an appointment or to learn more about how we can help you get back to living pain-free.