Sports Injury
Sports injuries are prevailing injuries that crop up when undertaking sporting events. This form of injury typically results from improper training, improper conditioning, or wearing ineffective sporting gear. Some sports injuries can be nagging and debilitating. A sports injury can propagate pain, discomfort, and sometimes impede mobility.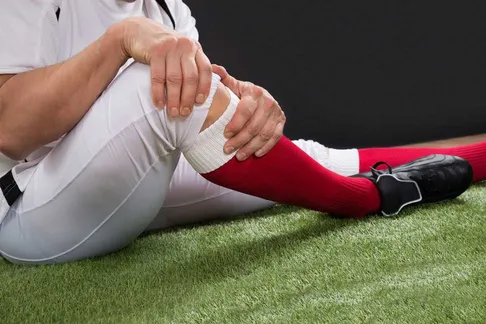 Exercises are crucial for the body's functioning, but without observing proper precautions and wearing protective equipment, exercise can easily trigger a sports injury. If you've sustained a sports injury, contact our sports chiropractor at Perkins Family Chiropractic, situated in Amarillo TX. We proudly provide holistic healthcare services that accord you a better quality of life, mitigating your pain and discomfort emanating from any form of sports injury.
Sports Injuries that Are Treated by Our Chiropractor
Everyone engaging in a specific type of sporting activity is susceptible to sports injury. Participating in high impact and contact gaming episodes like rugby and soccer can propagate injuries even to a novice athlete. Although any body part is vulnerable to sports injury during a sporting event or an exercising session, most injuries are associated with the musculoskeletal system, including bones, muscles and tissues. These injuries include:
Runner's knee
Heel spurs (plantar fasciitis)
Back pain resulting from subluxations, herniated discs, and fractures
Muscle sprains and strains
Dislocated joints
Fractured bones, including vertebrae
Knee injuries
Rotator cuff injury
Achilles tendon rapture
Swollen muscles
Tennis or Golfers elbow
Hamstring
Concussion culminating in migraines and headaches
Luckily, the above-stipulated sports injuries are treated through the use of chiropractic care employing non-invasive natural methods.
How Does a Chiropractor Treat Sports Injuries?
Our chiropractor begins your sports injury treatment by taking your medical history and performing a structural examination of your posture, spine, and balance. We will also assess your tendons, ligaments, and back to ascertain the extent of your injuries. Our sports injury chiropractor at Perkins Family Chiropractic uses non-invasive techniques to administer pain relief and revert to your favorite sporting event more potent than ever. These chiropractic techniques include:
Chiropractic Adjustments: to realign vertebrae and relieving pain from sports injury
Spinal Decompression: to increases mobility and relieve herniated discs
Massage Therapy: to relieve stiff muscles and enhance blood flow to achieve pain relief
Heat and cold therapy: to helps you regain full mobility and get back into your favorite sport at full strength
Let Our Amarillo, TX Sports Injury Chiropractor Treat You Today!
Are you going through excruciating pain emanating from a sports injury in Amarillo, TX? It's wise to seek the services of our reputable chiropractor at Perkins Family Chiropractic. Call today to schedule an appointment with our charismatic chiropractic team at (806) 331-2225. We will customize a treatment plan tailored to mitigate pain and enhance the recovery process from a sports injury.